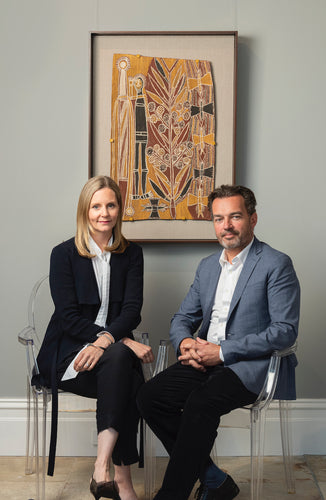 Our Company
Artvisory is an art gallery and Single-Owner Auction business. We operate nationally and are based in the heart of South-Yarra, Melbourne – a short stroll away from the lifestyle hub of Chapel street. Artvisory is a partnership between Amanda Swanson and Paul Sumner. Amanda Swanson has over 25 years experience in the Australian art and design world, having managed several prestigious art galleries in Melbourne and in Sydney before working in the auction world. She holds a BA (Fashion Design) from RMIT and her extensive industry experience also includes creating and managing corporate art events and nurturing VIP client relationships. Paul Sumner has 40 years art-world experience in Australia and in the United Kingdom. Paul worked for Christies Inc. in Australia rising to manager of their Sydney operations, before being appointed Managing Director for Sotheby's International in Australia and New Zealand. He was then re-located back to the UK, when he was appointed by their European board as Managing Director for Sotheby's in London (Olympia) and Paul has worked in the art auction and gallery world ever since. Amanda and Paul established Artvisory in 2018 as a bespoke company offering highly personalised and expert service, both with our Gallery and as specialists in Single-Owner auctions.
Artvisory handle single-owner collections where we tell the story of the owner or collector. Provenance is very important now, as it has always been, and a life-story is part of the magic of provenance. Let us tell your story.

Our Artists are the living embodiment of what we are about. Creators of art, this is what they do. Promotion of our artists work, this is what we do.Come and meet our artists at our fun events and enjoy their work.

Artvisory is a bespoke business that offers the best in client service. It is our mission to ensure that every client has a first-class experience selling, buying, or taking advice through our company.